MusicSecret Trees ~ Martin Walker
Music inspired by the mystery of ancient woodland.
Woods and forests provide a special place to find peace, silence, and beauty - qualities that help combat the stresses of modern life.
Since ancient times the tree has been a symbol of strength, wisdom, and of life itself. Secret Trees is inspired by the tranquillity and magical atmosphere of the forest, the power and mystery hidden within it, and its many myths and legends.
Secret Trees features harp, zither, dulcimer, bells, flutes, choir, and strings.
The Forest Awakes
The Harper
Spirit Glade
Deeping
Heartwood
Nightfall
Secret Trees
Total playing time 64:04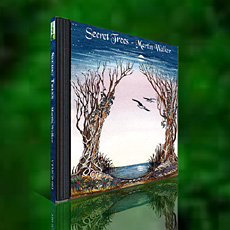 Secret Trees - see artwork here
CD £10 plus £1.95 postage & packing
Praise for Secret Trees
"The best way I can describe Martin's work is like a slowly turning musical kaleidoscope. In the end, Secret Trees leaves me relaxed, refreshed, and at peace"
Wind & Wire magazine
"Ideal for therapists, meditation, expectant parents, over-worked students and stressed business people everywhere. In every sense a breath of fresh air."
Enchanted