MusicAncient Seas ~ Martin Walker
Music inspired by the sounds and moods of the sea.
The surf gently breaking on the seashore is one of the most relaxing sounds on earth, yet the sea still has an underlying mystery and enchantment.
It has been a great source of inspiration for my music, and I have tried to capture its ebbs and flows, the early morning mists, and the secrets beneath the waves.
Ancient Seas features the Celtic Harp, Tibetan and Japanese bells, blended with strings, choirs and keyboards.
Beneath The Waves
Islands
Distant Shores
Voyage
The Wind And The Stars
Ancient Seas
Total playing time 60:36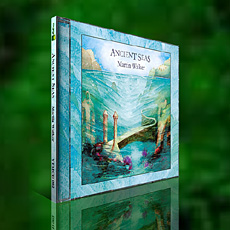 Ancient Seas - see artwork here
CD £10 plus £1.95 postage & packing
edition of 1000: completely SOLD OUT
Praise for Ancient Seas
"Ancient Seas currently plays on an almost continuous loop. I liked it when I first heard it, but it's grown and grown on me - lovely piece of work!"
Music From The Mountains
"Martin Walker, a composer living in North Cornwall, used his local coastline as the inpsiration for this CD. It evokes all of the qualities of the sea, its peace, its depth, its power, its danger and its wonder."
MysTree